Software Digital Marketing
Explore our software digital marketing case study for PRO Landscape, a Kansas City based landscape software development company.
SOFTWARE COMPANY
OVERVIEW
COMPANY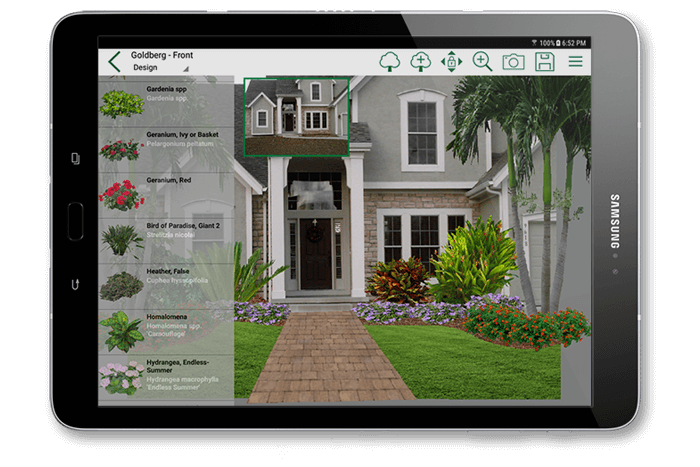 Landscape Design Anywhere, Any Time, and on Any Platform
Based in Kansas City, MO, PRO Landscape is one of the world's leading sellers of landscape design software. Their software products are used by landscape designers, architects, garden centers, home builders, contractors, and other landscape professionals all over the planet to create custom landscape designs and presentations.
Company: PRO Landscape (by Drafix Software)
Industry: Software / Technology
Location: Kansas City, MO
PROJECT
CHALLENGES
CHALLENGE
Having specialized in software design for nearly 25 years, the team at PRO Landscape contacted us with high standards and expectations for their new custom web design – a challenge we readily accepted!
The most critical project requirements were that their new web design reflect a modern image of their company, providing users with a visually engaging design that effectively educates customers about their products, and encourages new leads to contact the company.
Problems They Faced
Outdated website design
Lack of engaging design features
No content management system
Lack of differentiation from competitors
Cluttered navigation structure
THE SOLUTION

WE DELIVERED

SOLUTION
Strategy
Early on we collaborated with the PRO Landscape team to be sure we had a firm grasp of their existing website's failures, their target audience personas, and their impressive software product offerings. With their business identity firmly established before our collaboration, our team was able to focus its energy on design planning that would more effectively communicate their unique value proposition.
Design
With their global presence, PRO Landscape faces plenty of stout competition, which required our custom web design to be a truly unique experience that represented their brand, captured users' attention, and converted users into leads as effectively as possible.
We chose a bold, nature-based color scheme to tie in closely with the purpose of the software (landscape design), and to also hold users' attention from page to page as they learn about the company's products. To help users envision using the software, we created several custom device graphics featuring real screenshots of the software on a variety of Apple, Samsung, and Microsoft tablets.
For added visual appeal, we incorporated a variety of high-definition images that combine technology with nature, and utilized gradient overlays on the images to give them a one-of-a-kind appearance. Custom scrolling effects give the website a unique feel as users scroll down the page, at times providing a 3D experience.
Development
Switching PRO Landscape's website over to WordPress gives them all of the benefits of a full-feature content management system, including easy updates to content and images, countless design and functionality features, and widespread support from the well-established WordPress developer community.
With some heavy-lifting, we implemented several custom development features that make the PRO Landscape website an interactive user experience, including before/after sliders that showcase the abilities of their landscape software, animated icons and hover effects, and tab/toggle systems that restrict the amount of content presented to users at any one time.
For online sales of their landscape software packages, we integrated their WordPress business website with 3dcart, a third-party e-commerce provider. With the third-party integration, users can browse products, add them to cart, and provide payment with just a few clicks.
Marketing
The use of video has exploded online due to its proven effectiveness toward user conversion, so with that, we made it a priority to present prolandscape.com visitors with a short marketing video at the top of the website's home page to give them a quick intro to the company and the benefits of its software.
Ranking for important search terms on a national level requires an advanced SEO strategy, so we put great care into crafting one that would ensure PRO Landscape would continue to rank on Google's first page results for key phrases like "landscape design software". With keyword optimized content, search-friendly meta titles and meta descriptions, XML sitemap, keyword-optimized image filenames and alt text, fast page load speed, mobile-friendly design, and an SSL certificate installation, their website will continue to gain free organic traffic from Google.
Another major goal of PRO Landscape's software digital marketing plan was to continue to expand its visibility to customers in Spanish-speaking countries outside of the United States (like Mexico). To do so, we implemented a cloned Spanish version of their website, allowing them to appear in foreign Google search results, and provide their Spanish-speaking users with a customizable browsing experience.
Lead generation through the website is driven by clear primary and secondary calls-to-action strategically placed on each page of the site, enticing users to submit contact forms, purchase the software, sign up for training sessions, and request product demos.
Key Features
Custom Website Design
Multi-Language Support
E-Commerce Integration
Page Speed Optimization
National SEO Strategy
Interactive Design Features
Zoho CRM Integration
Lead Generation Forms
Mobile Optimization
Premium Website Hosting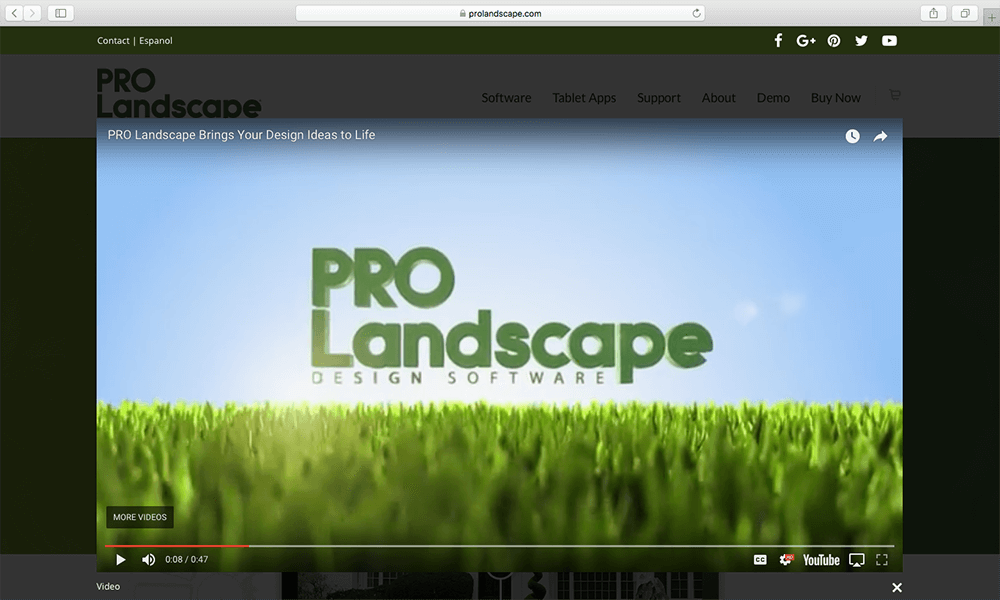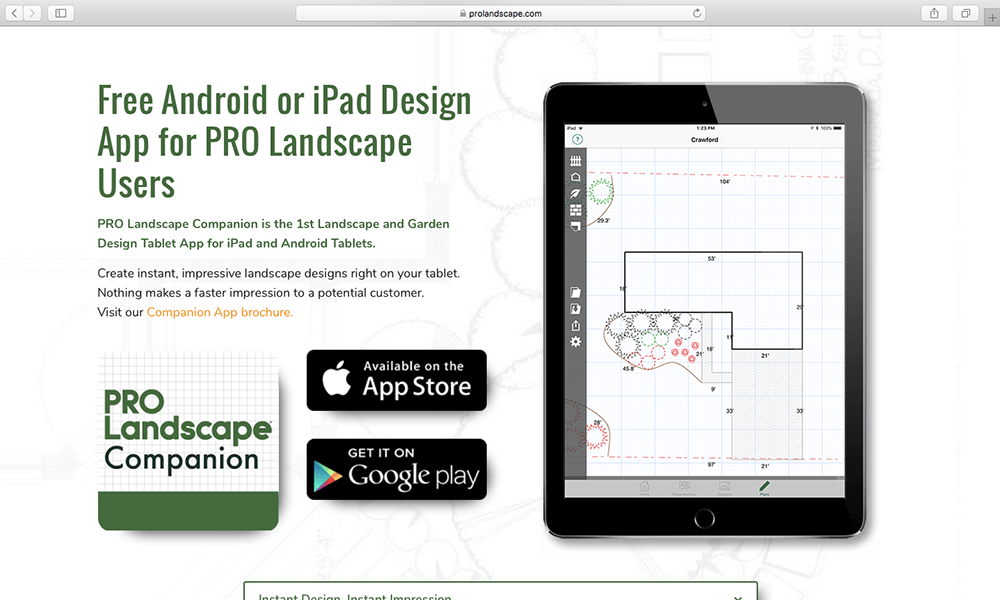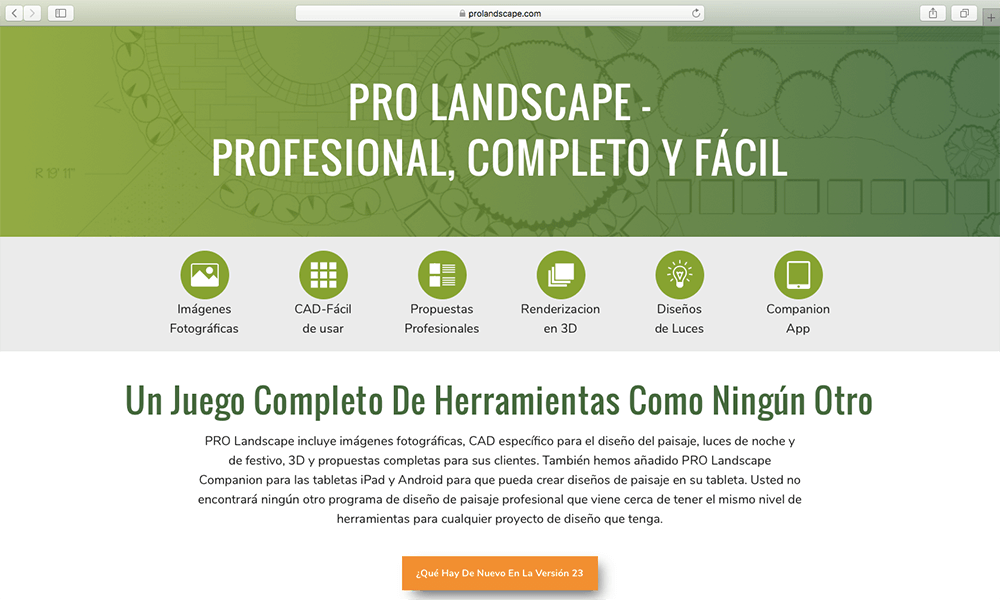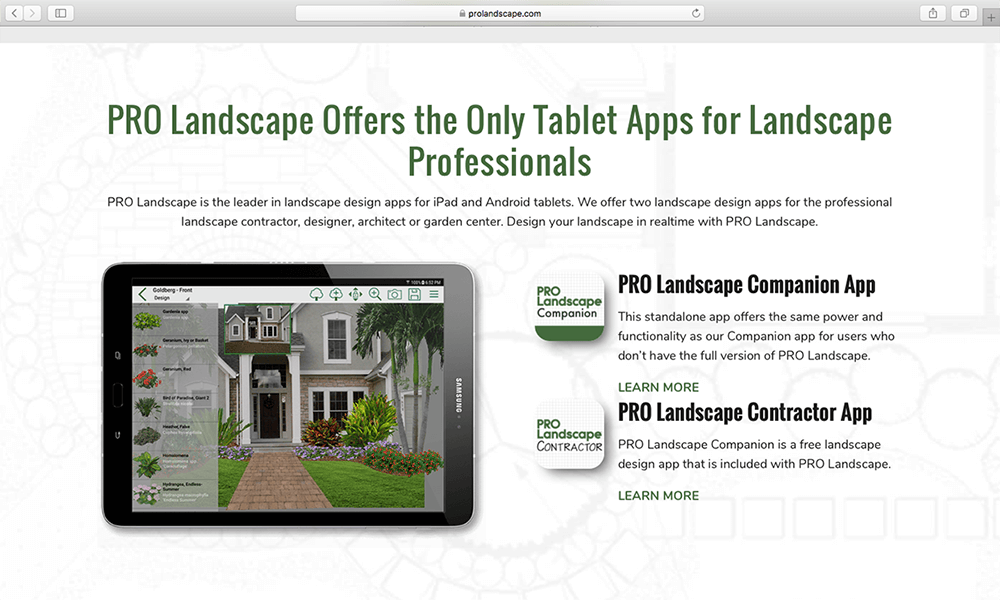 REAL RESULTS

SOFTWARE DIGITAL MARKETING

RESULTS
PRO Landscape now has a refreshed and modernized web presence which will carry them into the 2020's with success. Their strong search presence is helping them drive over 15,000 monthly visits to the site from organic Google searches. This heightened search visibility in tandem with their engaging and conversion optimized web design is producing an average of over 300 new leads per month via the website's lead generation forms. PRO Landscape is well positioned to remain a global player in the landscape design arena for years to come.
Average Monthly Google Organic Visits
15,327
National Google Page 1 Search Terms
10+
New Online Leads Per Month
323
Primary Lead Generator Conversion Rate
10%
Page 1 Search Rankings on Google / Bing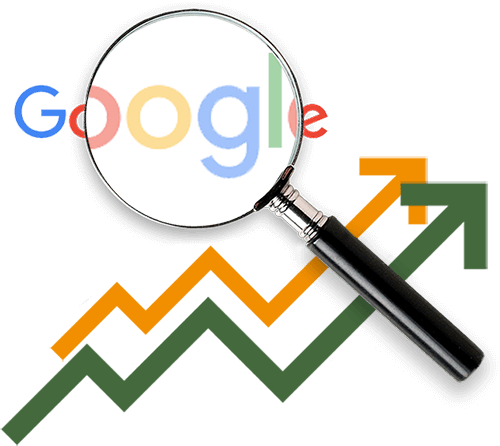 "landscape software"
"landscape design software"
"buy landscape software"
"buy landscape design software"
"landscape design app"
"tablet app landscape design"
"landscape cad design"
"software for landscapes"